Debbie Regan is a matchmaker - when a film shoot requires a certain backdrop, Regan finds the perfect match in her 2,000 plus file of locations. Her sharp photographic memory, endless network of contacts, and dogged pursuit of perfection and professionalism make her an industry leader in a burgeoning field that has a positive impact on Long Island.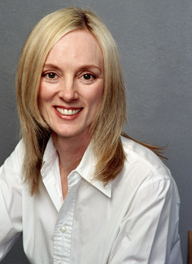 Debbie Regan
Five years ago, Debbie Regan Locations was created to provide houses and other properties for film, television, commercial and still shoots. The past few years has seen the business "grow by leaps and bounds," said Regan.
"When we started, a client would come to us with the specifications for a location and we would send a portfolio out the next day with potential locations," she explained. "Now we just have them go through the website and it takes 10 seconds for them to see our properties."
Technology is not the only factor in the increased success of Debbie Regan Locations. Positive word of mouth has created a vast and diverse network of clients ranging from film stars such as Woody Allen and Jeff Bridges to musical chart toppers Ashanti and Busta Rhymes to blue chip companies like Budweiser and Dell Computers.
On the other side of the business is her large file of locations, which run the gamut from Victorian mansions to regular, working class, neighborhood houses. "It all started when I gave my husband an aerial photograph of our home as a gift," said Regan. "The photographer was curious if I had a friend with a different style house for her to use as a setting on a shoot."
Regan continued asking friends if they were interested in using their homes for photo shoots and then realized she had a potential business on her hands.
A homeowner who is interested in having their house used as a film site should refer to www.debbiereganlocations.com and fill out a brief form. If their location is used, the homeowner is paid for their services and most shoots are only there for a day. "Not only are you paid money, it makes you feel proud to say that your home was used as a film site," said Regan.
As a result of Regan's continued success, she was lauded with a Friend of the Foundation Award, which was presented by the Long Island Film/TV Foundation.
Regan also was named a "Workforce Builder" by the Long Island Works Coalition. This award recognizes Regan's commitment to strengthening the local economy through the film industry. The film industry employs 75,000 people in the tri-state area and also brings money to local businesses. "There are so many people positively affected by a film set in their town," said Regan. "Pizza places, coffee shops, local cleanup crews, painters, landscapers, hotels - these are all businesses that see revenue by the presence of a shoot. The list goes on and on."
Regan also finds time to sit on the Industry Advisory Board for the Jericho School District. She brings students to shoots, lectures in the classroom, and recently donated two cameras to Roosevelt Schools for use in a speechwriting class. Regan recently brought a group of students to a shoot for EA Sports, a video game company that was shooting a commercial with NBA stars Chris Webber, Carmelo Anthony, and Steve Francis.
"My kids are in the Jericho school system and when I go in for career day or lecture in class, the kids say that I'm the mom with the coolest job," said Regan, who believes the success of her business has to do with her love of the job and the fact that the film industry is a strong revenue generator.
"We should embrace the film industry," said Regan. "It brings in money to the local community and shows off the natural beauty of Long Island and the places we call home."
Those interested in having their house or property on Debbie Regan's list should either call 626-1928, or visit www.debbiereganlocations.com.